While mesothelioma cancer is most commonly associated with asbestos exposure in the workplace, some who develop mesothelioma have never worked directly with or around asbestos. These individuals may not realize that they have encountered exposure to asbestos in their homes from parents, spouses or siblings who have brought asbestos dust home on their work clothes, or from asbestos in the home or close by.
Asbestos was present in a wide range of products which were used in home repair and remodeling projects well into the late 1970's including floor and ceiling tiles, joint compounds, insulation and bricks. Individuals doing their own auto maintenance such as brake and clutch repair may have been exposed to asbestos into the 1980's.
The inhalation or ingestion of asbestos fibers is the only known cause of mesothelioma cancer. Below you will find a list of products that commonly contained asbestos at points during the twentieth century.
If you are unsure where you may have been exposed to asbestos and have been diagnosed with mesothelioma, CLICK HERE to contact New York and New Jersey mesothelioma specialist to learn more.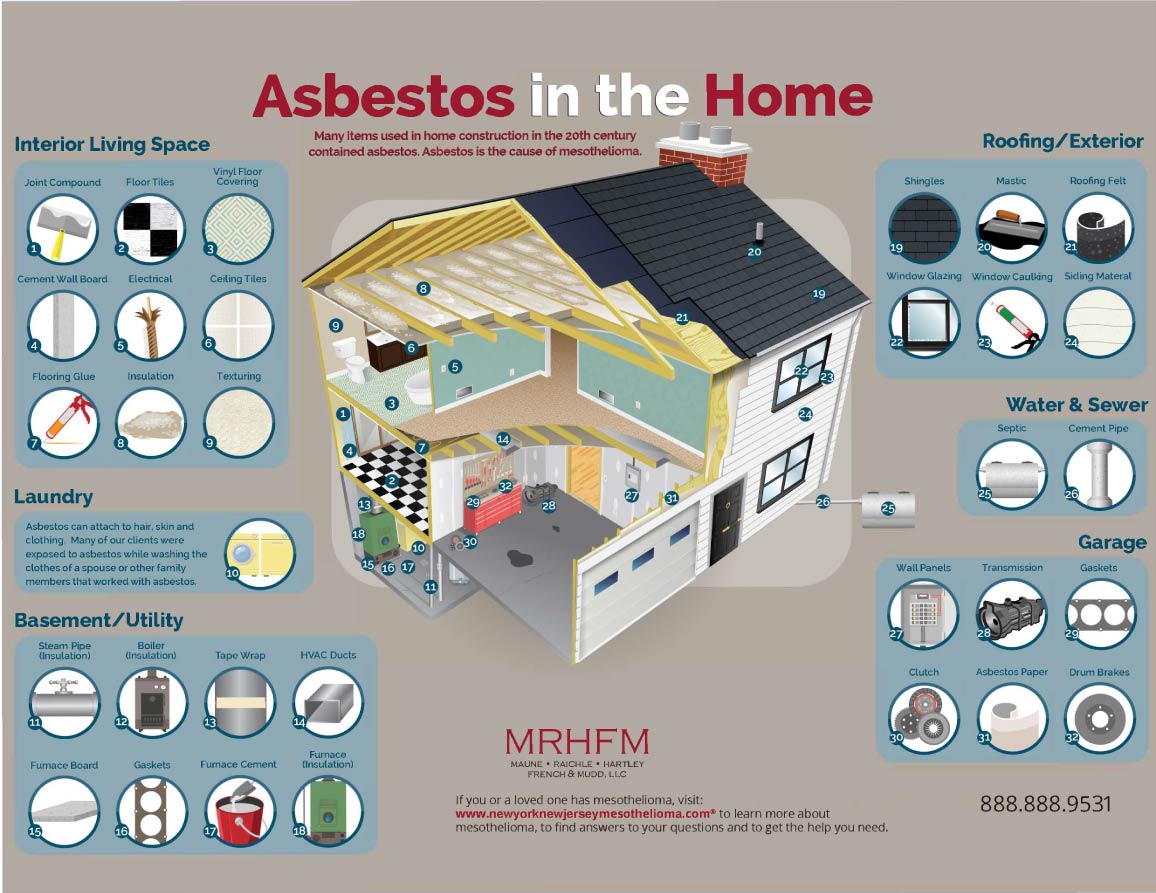 Brakes
Clutches
Gaskets
Plasters
Cements
Dry wall joint compounds
Shingles
Insulation
Textured paints
Filler in many plastics and adhesives (glues)
Paper production
Cement pipe
Undercoatings
Boilers
Building materials
Ceiling tiles
One brand of cigarettes
Some clothing/blankets
Compressors
Cooling towers
Cooling tower fill
Dental molds
Drilling muds and fluids
Dryer felts
Electrical materials
Elevators
Some fertilizer
Flooring materials/tiles
Gaskets/packing
HVAC systems
Insulating cements
Oil heaters/draft blowers
Pipe coverings
Certain chemicals
Pumps and valves
Steam traps/generators
Refractory products
Roofing/siding materials
Shipbuilding specialties
Cement/adhesives
Spray on insulation
Turbines
Welding rods
Certain uses in the aerospace industry
Certain agricultural uses and agricultural product